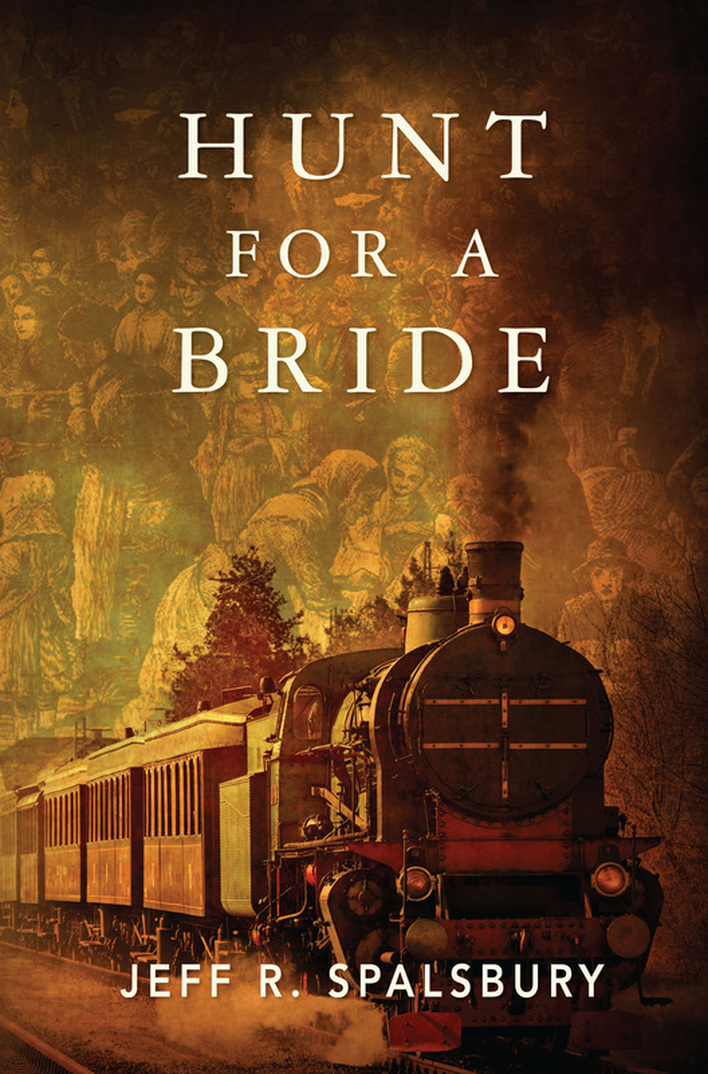 ---

Hunt for a Bride, the third book in Spalsbury's Hunt Series is now available.


It's 1870 in New York City. Mail-order bride Kay Cannon darts along cobblestone streets to catch the emigrant train to Elk Forks, Montana. Two men pursuing her want everything she owns, including her life. She must escape them using all the courage and cunning she has get to her husband-to-be.

After advancing his medical skills, Doctor Whitfield is returning to Elk Forks and discovers that he's now a dime novel hero. To survive, he must hide his gunfighter reputation or do his doctoring with a gun.

Sheriff Brian Buckles, already in Elk Forks, faces his own challenge—impending death from five outlaws who want his prisoner.

All three pioneers have big dreams and are willing to make sacrifices. But it's impossible to predict the suffering this harsh land offers — blazing shootouts, kidnappings, a vicious saber fight, and Indian attacks. But right now, the West is big skies and big promises.






* * * * * * * * * * * * * * * * * * * * * * *
BOOKS COMING SOON:

To Dream Again

To Dream Again is the story of an Afghanistan veteran who loses everything in one day and proceeds to gather up his hurting veteran friends, opens an art center and tries to reclaim all their lives.
Harry 'Sti' Stiletto had it all: a rich wife, an elegant house, a great job, an expensive car, pricey clothes and a loyal dog. Then one bleak Friday everything is gone. He's fired from his job, his car is stolen, and his wife divorces him. She gets a court order locking him out of their house, throws all his clothes out the second story window into their pool and gives his dog away to her cousin to be used as food bait for his killer pit bulls. It's the second worst day of his life—or his best.

As he tries to sort out his emotions from that disastrous day, he realizes that first he must rescue his dog. Then he wants to find the four friends he vowed to help while in Afghanistan as they waited to be annihilated after an ambush killed four of his team. Miraculously, they made it out alive. But what now? What of their lives? Have their lives turned out as miserable as his?

Sergeant Coby Wilson, artist, still haunted by the war, can no longer paint. Lieutenant Luis de Poseur, who wanted to become a sculptor, lost the use of his legs during that ambush and now just drinks his pain away. KC Vas, potter, has dropped from sight. Elijah Gates, a jazz pianists, is somewhere in Nevada. Sti first has to find them and then persuade them to join him in the wildest adventure imaginable—to find their lost dreams and live the promise made to them by God's rainbow in Afgahanistan.





Publication dates to be announced in mid 2015.






* * * * * * * * * * * * * * * * * * * * * * *
Zorkon's Secret:
The Search for the Conundrums
Ambassador Judith Woeberry has only 14 days to stop a war, but already four attempts have been made to kill her. Now she must place her life in the hands of two Zorkon natives that she's not sure are her friends or her executioners.

She'd come to Zorkon to discover why delivery of the energy crystals, small pea-size crystals used to fuel the entire Solar One space fleet, had stopped and locate a missing negotiator. She soon discovers that the supply problem is much more sinister than she realized. It's a coordinated attack by three planetary groups that have joined forces to obtain control of the energy crystals and seek total solar domination.

After her security team is decimated by betrayal, she is forced to enlist the aid of Antonio Albero and his brother Arc, third-generation Zorkons. The three must battle a well armed military force, travel deep inside the dreaded unstable ZIP energy field, which covers a third of the planet, to locate the Conundrums, a never-before-seen race that supplies the energy crystals before the enemy locates them.

The Conundrums existence is only known because Antonio's Grandfather discovered their homeland over a hundred years before. Although he never returned, he did send out samples of the energy crystals that started the new energy age for Solar One.

The ambassador also learns that ZIP might move and possibly destroy much of the planet. Everything is against them in this life and death race to see who will be the first to locate the Conundrums and, if they do find them, do the Conundrums even want to be found.

This science fiction novel is completed. Publication date pending.

***********************************************************